Here's some info about what Gauge Power/Ground wire(s) to use and what size fuses to use.
Lets start with a chart from
www.the12volt.com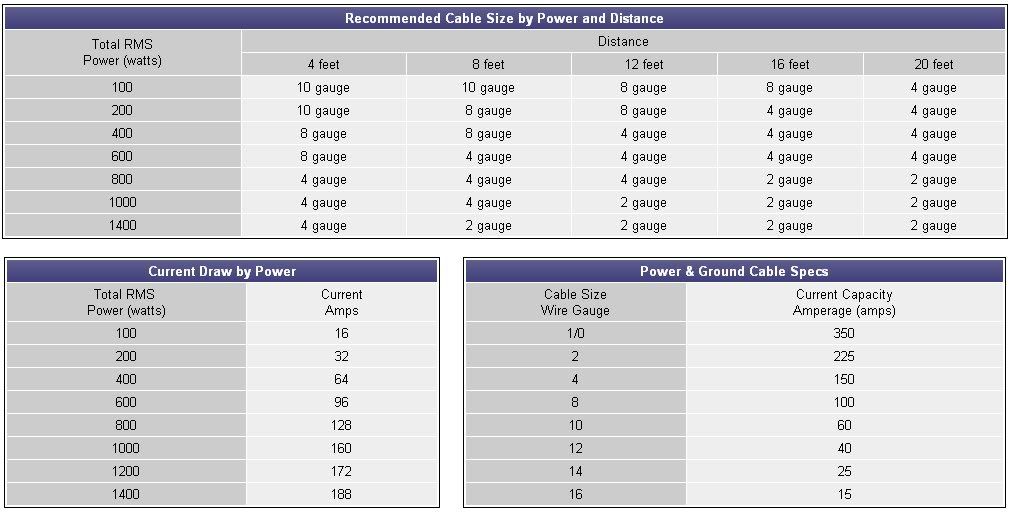 Top Chart
Using the total RMS power of all your amps, and a run of 13 - 15 feet for a 3G, you can see what size power wire you need. Note that it is always OK to go to a larger size (eg. 1/0 GA instead of 2 GA), but never OK to go down to a smaller size.
What happens if I go too small on wire gauge?
There are many negative effects on choosing a wire gauge that is too small for your application. The first is that your amp(s) will not perform at their maximum potential. Think of it as sucking water through a straw, to get the same amount of water through a smaller diameter straw, you have to suck harder. If you use the same amount of suction when compared to a larger diameter straw, you will suck up less water.
The other negative effect is much more dangerous than having your amp not put out all the power you paid for. Since the amp is trying to suck more power through the smaller cable, the cable heats up. If the cable is small enough, and is not fused correctly (more on that later), then the insulation around the wire can melt. This can then catch your car on fire, posing a severe risk to your health.
What happens if I go too big on wire gauge?
Absolutely nothing. You are allowing the amps to pull as much power as they need, and you are future-proofing yourself in case you want to upgrade to more powerful amps.
What if I have multiple amps?
If you have multiple amps, then you will need a fused distribution block. Your main power wire (from the battery back to the hatch/trunk) should be sized according to the total RMS power of all your amps combined. This should then feed to the fused distribution block. Coming out of the block, and going into your amps, should be the next wire gauge smaller than your main wire.
Bottom Right Chart
This chart shows the total current carrying capacity of each wire size. This will help dictate the MAXIMUM fuse size for that wire.
There should be 1 fuse on the wire within 18" in the car's battery.
This fuse is to protect the wire, not your amp (that's what it has built in fuses for). Since this is the maximum fuse size, it is NEVER OK to put in a larger fuse, but putting in a smaller one does not harm anything.
One way to up the safety factor of your power wire fuse is to fuse it at the same amperage rating as your amp. This can easily be done by looking at the fuses on your amp, adding up the ratings, and then using an equivalently sized fuse at the battery.
What if I have multiple amps?
If you have multiple amps, you have to account for multiple fuses now. The main fuse on the main power wire follows the concept from a single amp. To up the safety factor, you can now just add up all the fuses in your amps, and use that amperage rating on your main fuse.
You must also have the correct fuses at your distribution block. These fuses follow the same idea from the single amp example. Each fuse in the block should (at the least) be equivalent to the sum of the fuses on the amp to which it runs.