Hi, so I'm getting these: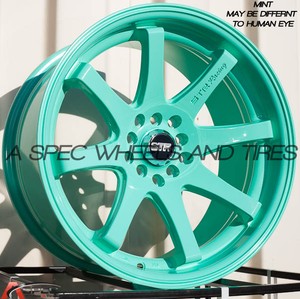 Mint 17x9 20 Str 522 5x114 3 5x100 Wheels Aggressive Concave Acura 5x4 5 JDM | eBay
because: Great deal and I have a Dove White Pearl '01 GS Spyder.
I've looked and looked and looked and looked and LOOKED.
So please don't try and tell me that I haven't. I'm in college and I'm used to being very thorough in my research. Trust me. I've looked in google, and on here and other websites. On here I found some threads arguing over what will fit, and what will not.
Well, how about I roll the fenders then? That was one question I seen a few times. I was reading threads from 2008, so I know a lot has changed and I just need the right answers.
Also, anyone happen to know where I could get my fenders PROFESSIONALLY rolled in Knoxville, Tn? EAG (European Auto Garage) was doing them back in 2010 *I read a thread saying they had the tool in their garage. but I called them, and they told me they don't do them. I hate how dated some of the internet's information can be sometimes. *ugh*:facepalm:
and I plan on lowering the car (not too much) but enough to make it sit nicely.
~*~*~*ALSO: any recommendation on tire sizes to go on these rims?
any and all advice and comments will be kindly accepted. Though I know I'll probably get hate, I'm a 90's kid so I think I can handle it. lol, just let me know what you guys think I should do. I tried searching for other sized tires but I couldn't find any other rims online that were in Tiffany Blue/Mint color. Surprisingly bc I thought they were pretty sought after/popular.
ALSO: any suggestions on what coilovers work well with the Eclipse will be appreciated. I was thinking of these:
D2 Racing RS 36STEP Adjustable Coilovers 00 05 Mitsubishi Eclipse 99 03 Galant | eBay
or these? ***What's the difference between the two?? They both have the same specs, from what the descriptions say.
D2 Racing RS 36 Step Adjustable Coilovers Suspension Mitsubishi Eclipse 00 05 | eBay
Thanks again in advance. :wavey: