Discussion Starter
•
#1
•
I do not "think" that there is another thread like this. But either way, it is nice for an update.
Some of this I have already, some I am buying.
I chose the 6 core because I always have multiple programs running at once and I hate waiting. And the 8 core is overkill. Going 16 gigs of RAM. Do not need 32 at the moment. Also, that water cooler is a nice small system and although I most likely will not really need it, the price is very good.
The whole system ran about $640.00. Sure, I might have skimped here and there, but that is a great price.
Also, many of you will scoff at that video card, but I am not a gamer. And besides, I got it from a co worker for 20 bucks. Beat that!
Will post pics of the final product when it is.. well, final.
Antec 900 case.
Newegg.com - Antec Nine Hundred Black Steel ATX Mid Tower Computer Case
Unique Top mounted 200mm TriCool exhaust fan to cool the hottest system
Perforated front bezel for maximum air intake
Two front loaded HDD cages for up to 6 hard disk drives
The HDD cages act as air ducts to take air in more efficiently
Top mounted I/O ports for easy access
Top tray for your MP3 player, digital camera, etc.
9 Drive Bays
- External 3 x 5.25"; Internal 6 x 3.5" for HDD, or
- External 6 x 5.25"; Internal 3x 3.5" for HDD, or
- External 9 x 5.25"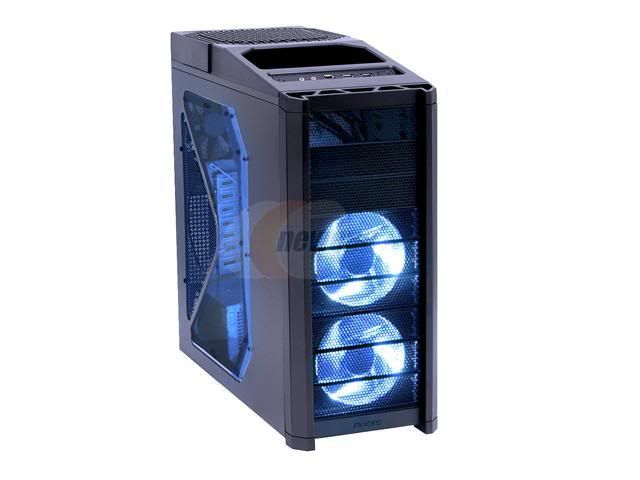 Cooler Master GX Series 650W ATX 12V V2.31 80 PLUS SLI Ready Power Supply RS650-ACAAE3-US
Amazon.com: Cooler Master GX Series 650W ATX 12V V2.31 80 PLUS SLI Ready Power Supply RS650-ACAAE3-US: Electronics
GIGABYTE GA-990FXA-UD3 AM3+ AMD 990FX SATA 6Gb/s USB 3.0 ATX AMD Motherboard
Newegg.com - GIGABYTE GA-990FXA-UD3 AM3+ AMD 990FX SATA 6Gb/s USB 3.0 ATX AMD Motherboard
Get Ready for New Generation of 32nm AMD AM3+ CPU
Supports next generation of 45nm AMD AM3 CPU
32 Gig RAM Max
Multi-display support with 2 way SLI and 2 way CrossFireX
AMD OverDrive Support
108dB Signal-to-Noise ratio playback
DualBIOS 3TB+ HDD Support (Hybrid EFI Technology)
Turbo XHD- Full Automatic RAID 0/Stripe
Ultra Durable 3 – Classic
GIGABYTE innovative technology- Easy Energy Saver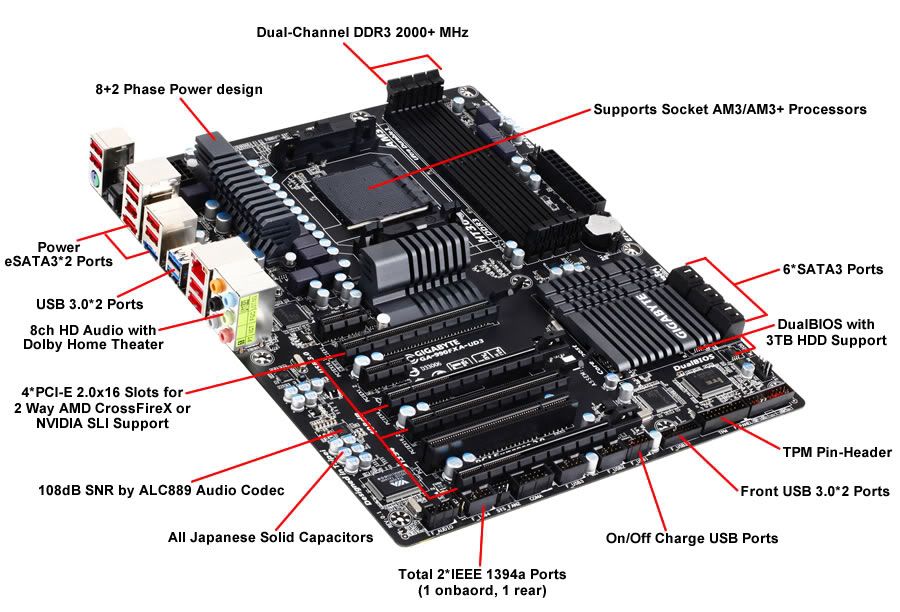 AMD FX-6100 Zambezi 3.3GHz Socket AM3+ 95W Six-Core Desktop Processor FD6100WMGUSBX
Newegg.com - AMD FX-6100 Zambezi 3.3GHz Socket AM3+ 95W Six-Core Desktop Processor FD6100WMGUSBX
Core - Zambezi
Multi-Core - Six-Core
Name - FX-6100
Operating Frequency - 3.3GHz
L2 Cache - 6MB
L3 Cache - 8MB
Manufacturing Tech - 32 nm
64 bit Support
Hyper-Transport Support
Virtualization Technology Support
Thermal Design Power - 95W
XFX ATI Radeon™ HD 4850 - 625 MHz Core 512 MB DDR3 HDTV Dual-Link DVI - HD-485X-YDFC
Graphic Card Models
GPU Clock MHz: 625 MHz
Shader Clock (MHz): 0 MHz
Stream Processors: 800
Bus Type: PCI-E 2.0
Performance: Standard
Memory Interface Bus (bit): 256
Memory Type: DDR3
Memory Size (MB): 512 MB
Memory Clock (MHz): 1990 MHz
CORSAIR Vengeance 8GB (2 x 4GB) 240-Pin DDR3 SDRAM DDR3 1600 (PC3 12800) Desktop Memory Model CMZ8GX3M2A1600C9
Newegg.com - CORSAIR Vengeance 8GB (2 x 4GB) 240-Pin DDR3 SDRAM DDR3 1600 (PC3 12800) Desktop Memory Model CMZ8GX3M2A1600C9
Speed - DDR3 1600 (PC3 12800)
Cas Latency - 9
Timing - 9-9-9-24
Voltage - 1.5V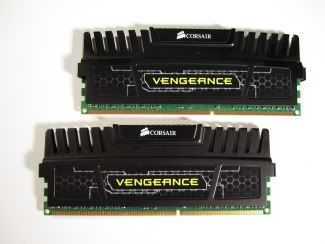 Antec Kuhler H2O 620 Liquid Cooling System
Newegg.com - Antec Kuhler H2O 620 Liquid Cooling System
Low profile pump ensures exceptional liquid circulation while preserving internal airflow
Easy-bend tubes for maximum flexibility in radiator positioning
Intelligent noise / speed control fan for quiet, efficient cooling
Latest generation copper cold plate for optimal conduction
Cooling Liquid - Safe, environmentally-friendly, anti-corrosive