Discussion Starter
·
#1
·
I sold my Ripp SDS si its the perfect time to start my TT kit and change my pistons for forged one by the same time.
in fact i didnt had the choices for pistons, #6 cylinder is out of compression after a incient happened thursday night coming back from work.
The incident is due to a combination of factors that caused detonation while racing my first of the season.
it first started when i filled my car 3 days ago. i was in an hurry going to work so i stopped at the first gas station on my way, a station with service. i ask the man a fill of super (91). Usually i go to another station, filling with 94.
later that day i let someone i trust a lot take my car for a trip to a store. he came back and tell me he felt something wrong happened when he was sligthly accelerating in third gear.
i take my car and go to lunch and notice a bad idle and some misfire, i come back rigth now and take my #4 plug out first. it was mashed :squint: i check the other 3 front one and there good, i then checked compression in the 3 front cylinder, twice, and came with 175-180 on all three.
i put a new plug in and start the car. everythings fine and back to normal. i test drive going back home after work and everything is perfect. the next day start as the hottest day we had so far this year, a hint of summer in our freezing mind... it went to 19 degree celcius (dont forget i live up north :sam: ) during this day i installed my new mags and tires and reajusted my air fuel map to run richer to avoid an incident like the one that happened the day before.
on my way home there is a red integra that get behind me and made it clear he wanted to race. i coulndt push it until the car in front of me turned and left me a clear straight way in front of me. i down shifted to third and floored it hitting 150 kmh in split seconds. distancing the red integra easely i started to feel the rush.. i wasnt satisfied enough so i shifted in 4th gear and floored it again, looking back to see the integra shrink in my mirror.
but then then it happened again as i was to let it go, hitting 180 in a 90 zone (kmh). the sound of my engine changed and i pressed the clutch immediately and cruised. my engine shutted off ater a few seconds and i stopped by the side of the road.
i knew rigth there what just happened but i was wishing for luck... again... i called for someone to bring my tools up to me. i remove the #4 plug, it was perfect, i removed #2 and 6, they were mashed. a hint of hope then filled me for a moment. i then took compression on cylinder 2, it was ok. #4 was ok too. then #6, 70... the hint of hope i felt a few seconds later just left me, replaced by a feeling of powerlessness and the smell of a tow truck...:rant2:
sorry if it was that long :ugh:
so the factors are:
poor gas
worn plugs
higher air temperature than usual( i did the tune i was running on much much colder days)
i floored the 4th up to the top many times before with this tune and set up before (with the BB and the emanage)and never had any problems. so many factors can be eliminated right from the start.
in the meantime i closed the deal to sell my SDS set up.
so i decided to built the tt project on my car NOW...
keeping most of my fuel management upgrades, i dont miss much parts to finish my built. except fot the unexpected pistons and related gasket...
i started today, backing the car in my garage and started dissasembly.
here is the last pics of my engine bay as it was.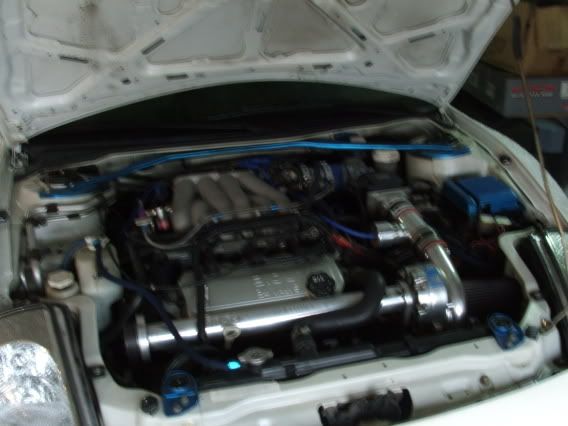 and after 4 hours :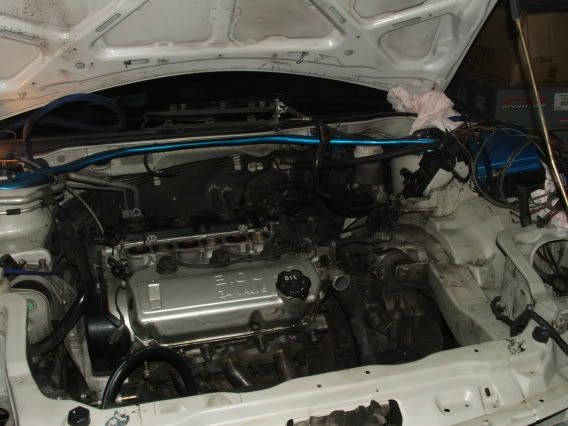 Tomorrow :
Engine bay clean up!