I am updateing the first post as things have changed since I originally made this tread. I am going to kind of make it an Audio/Electrical system build thread since I am upgrading everything. Here we go:
Right now I am in the middle of building a custom corner sub and emp enclosure for my trunk based off of this design from Future3G:
Some things to point out, the one I am making is from 3/4' MDF board and the original is made of fiberglass. What I have is a wood shop and absolutely no skills with fiberglass :lol: So of course there will be major differences. As of now I have the amp rack built with my batery relocation and power distribution system on the indide. Here are some pics: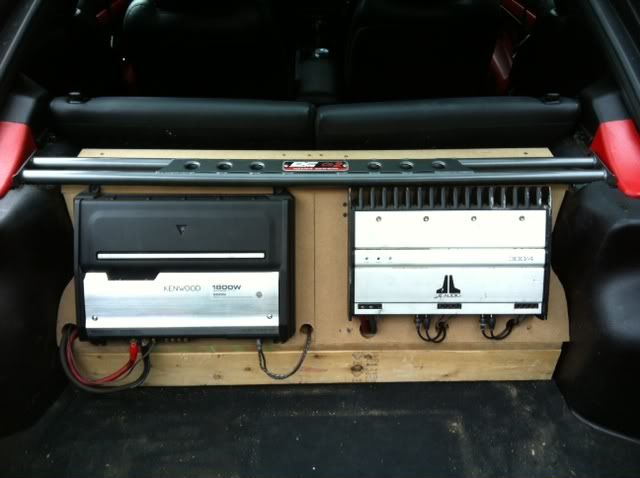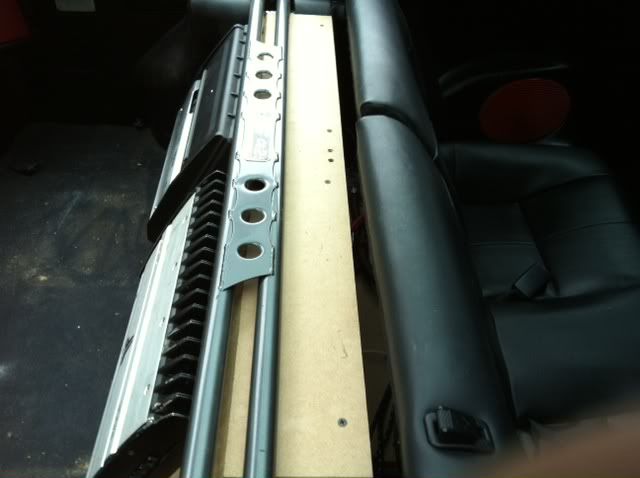 I still have some work to do on the corner boxes, so those wont be done for a while. But when done they will be wrapped in black sub box carpeting.
Here is what I have:
Optima Red Top battery relocation to the trunk
Big 3 Charging upgrade, custom built
2 12" Kicker CompVR subs (currently out)
Kenwood DS Amp: 500w to each sub
Kicker DS Series speakers: 6.75 components front and 6x9 rears
JL Audio 300/4 amp: 75w RMS to all 4 speakers
Jenson VM9314 HU with blutooth adapter, XM radio adapter and iPod adapter
Knukonceptz Kollosus Fleks 1/0 and 4ga power and ground wire for big 3, battery relocation and amps
Knukoncepts Kompression terminals, posative and negative
Kunkonceptz, X-Scorpion and Tsunami ANL fuse holders, power and ground distribution blocks
Stinger and Kicker ring terminals, adapters and ground termination blocks
Lightning Audio 16ga runs from JL amp to all speakers
Ken's stage 3 head/foglight relay harness, custom wired by myself to be plug and play
Lightning Audio distribution block and fuse for the light relay
Current Pics: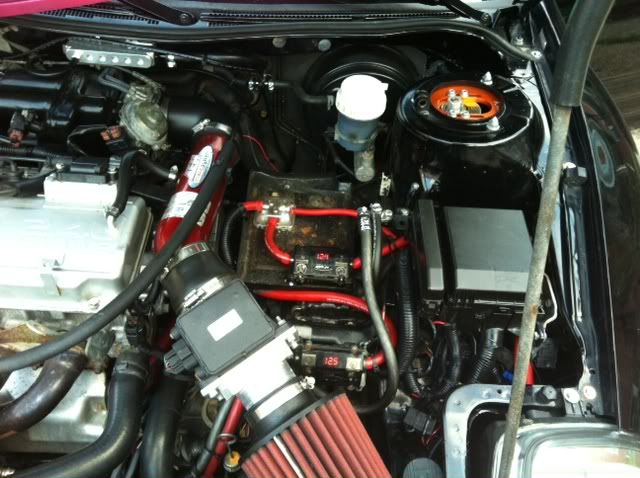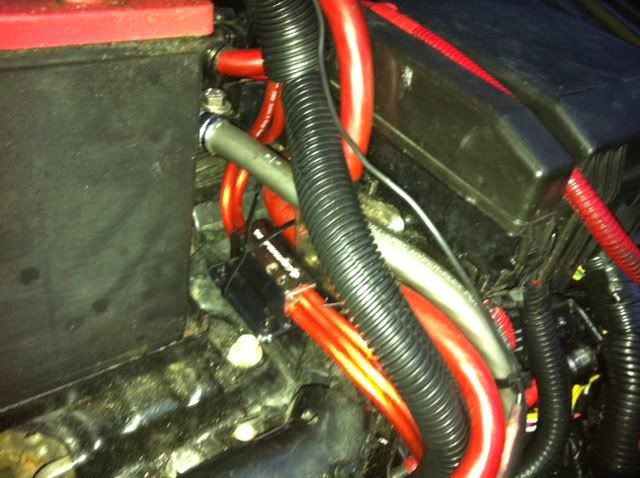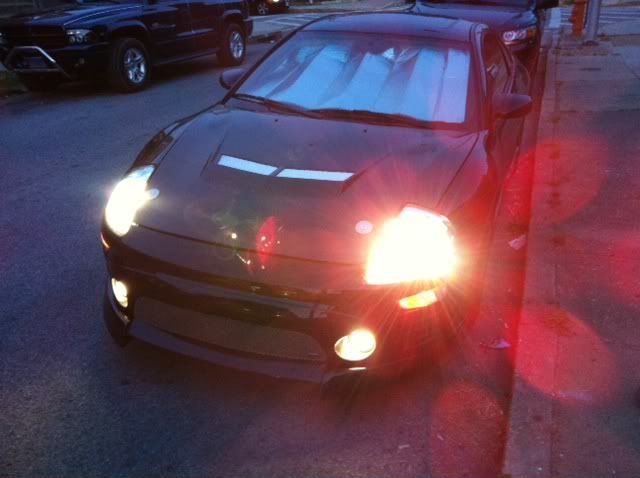 This is the original first post of this thread:
I was asked to write about my audio setup so here it goes, I'm also going to go over the steps I did to do the install to help answer some questions about the actual procedure to the best of my ability.
This is the overview of my trunk with the seats down
FIRST DISCONECT YOUR NEGATIVE BATTERY TERMINAL! Or stand by to be electrocuted.
Starting from the battery here is what I did.
1. Because our car really doesnt have an easy way to get throughout the fire wall like other cars, Best Buy originally drilled a hole through it for the previous owner. I widened the hole so 0 ga. Knukonceptz Kollosus Flex wire and a 0 ga. water tight grommet would fit. I ran the power system down the driver side of ther car, under the carpet. To do this I removed the door runner plastic by prying it up with a spackle blade, the rear panel and the rear seat. I ran both remote wires with this main power wire.
Refer to
this
to remover your seat, rear panels and rear speakers.
2. After the main power run, I installed the head unit (remove two bottom screws of face and it pops out then remove hazard button, 4 screws hold the head unit in). A Jensen VM9314 7" flipout screen. I connected just the battery, accessory, antenna and remote amp wires and grounded the unit to the metal frame (I only used those connections because I am running the speakers off of a 4 channel amp and RCA cables). This head unit has RCA outputs for sub, front and rear channels. I used a y adapter for the sub, and 3 Kicker 2 channel RCA cables and ran them down the passenger side of the car the same way I ran the power wire in step 1 but on the opposite side. I did this to prevent ground loop through the RCA cables. Last for the head unit I t-tapped a 16 ga wire to the HU's battery and ground wire to run to the amps down the driver side to connect to the amp to further prevent ground loop. All power wire should be on one side and all sound wire should be on the other to prevent ground loop.
3. With the HU installed and the main power wire ran to the trunk I installed my first amp, a JL 300/4 4 ch. amp to put out 75watts @ 4ohms by 4 channels. This amp powers my Kicker DS series 6.5 components in the front and KS series 6x9 3 ways in the rear (To remove the door panels refer to
this
). I ran 16 ga wire to each speaker from my JL amp, all on the passenger side (except driver side rear obviously). The rears was easy, for the front a ran a coat hanger CAREFULLY through the factory rubber grommet and fed the wire through to my crossover. I ran the tweeter through the door frame to it's factory location and dual side taped it to hold it in place and keep the factory cover over it. More tweeter install methods used by members are here
http://www.club3g.com/forum/car-audio-electronics/150300-tweeter-install-questions.html
.
I mounted the new speakers in the factory location, to access the rears you remove the rear panels as mentioned in step 1.
4. After the speakers and 4 channel amp were in, I installed my subwoofer 2 out put monoblock amp, a kenwood KAC-9103D to put out 500 watts @ 4ohms to 2 12" Kicker CompVR subs. The subs are in a sealed hatchback style box in the trunk, nothing fancy yet. I have 10 ga wire to my sub box with 12 ga wire in the sub box. Both amps are mounted to the back of my rear seat backs.
5. The HU, speakers, subs and amps are all in so all I have let is my power distribution system. I have the power wire running to a fuse in my trunk, from there it goes to a Tsunami 5 Farad cap. The cap then goes to a fused distribution block which sends 4 ga. Knukonceptz wire to each amp. To ground the system I ran 4 ga wire from the amps to a ground distribution block which sends 0 ga wire to the cap and from there to a 0 ga ground termination block.
6. Reconnect the battery. Test the system, make sure the amps turn on, the head unit works properly and the subs and speakers all work. If it's all good put your panels and rear seat back in. Tune your amps and enjoy.
For all my connections I used heavy duty butt connectors from pepboys with shrink wrap over them for protection. This includes the connections to the speakers and crossovers. All my power and ground wire is Kollosus Flex by Knukoncetz.com both 0 and 4 ga.
Any questions comments or suggestions please post or PM me. Sorry if this is redundant to other posts.