Discussion Starter
·
#1
·
Preemptive Caveats: I searched lots, that's how I got where I am on this plan. A big3 is no big deal to execute, but I am not real sure footed in electronics, so I need a hand figuring this out.
I am looking at getting the bits and pieces to relocate my battery to the trunk and upgrade the big 3. I have some extra 1/0 wire from work for the negative side, and I plan to get 4AWG for the positive lines since I dont have and dont plan to have a big sound system. (The two 8AWG from + to the fuse box can go up to one 4AWG, i read.)
I plan on:
on Hand lengts of 1/0 wire for grounding
25' 4AWG power wire
Absolute ICB120 type III inline breaker <18" from battery
LED pos battery terminal (easy check on batt)
KnuKonceptz Neg Battery terminal (up to 3 1/0 wires)
Can C3G check:
1) My schematic
2) help me plan the distro box (will
Knukonceptz product detail for KONFUSED 2/3/4 WAY DISTRIBUTION POWER & GROUND BLOCK
work, and if so the battery is at either battery position, or should I go with
Amazon.com: Phoenix Gold 3-In/4-Out Fused Distribution Block: Automotive
?????)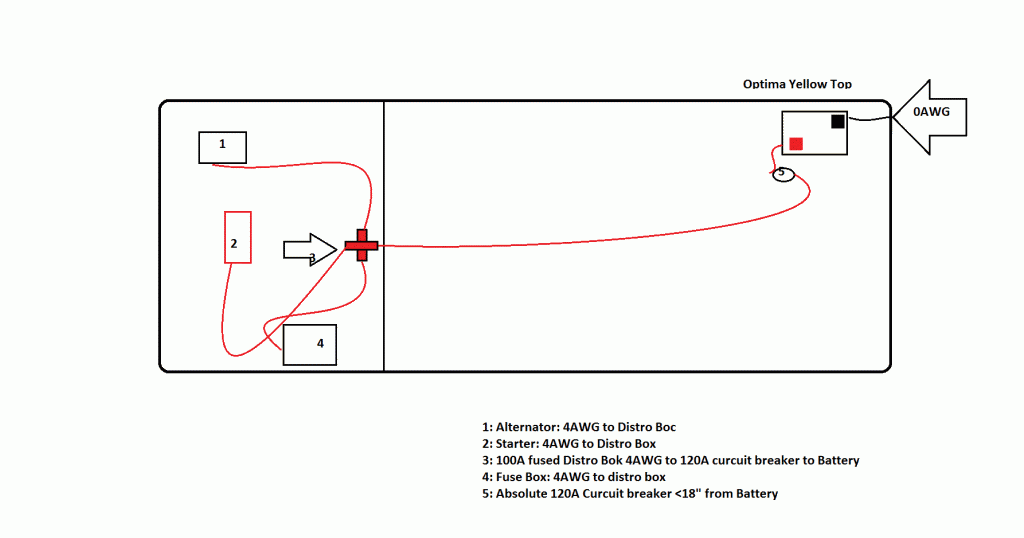 How would this wire up in the Battery relocation? I figure 100A fuses on the input lines would be all right since on the KnuKonceptz since I have a 120A breaker <18" from battery, or do I not even need a fused block because of the 120A braker.