Discussion Starter
·
#1
·
This is a "How To" that will correct a narrowband A/F ratio so it doesn't keep flicking from 1 extreme to the other, and making an annoying clicking sound in the process – as seen in this video:
YouTube - Air Fuel Gauge out of control
DISCLAIMER: I'm not responsible for you hurting yourself, anyone else, or your car if you follow these instructions. Do so at your own risk. Take the necessary safety steps –and if you don't know what those would be then close the hood and call someone who does. You're dealing with cars (which are heavy and expensive), electricity, gasoline, oil, and other liquids; which a spark has the potential to ignite. Don't be stupid, and if you are, don't try and blame me. :fawk:
Ok, so I assume that since your reading this, you probably have a narrowband Air/Fuel gauge that you obtained somehow - perhaps it was shipped to you by mistake, won it in a contest, or (like myself) you got it as a gift from someone who knows nothing about cars, or maybe you bought one. By whatever means you managed to become the proud owner of this damn-near worthless piece of equipment, and you installed it (this is NOT "how to install").
Here is what I did a little less than 1 year ago and it hasn't failed me yet, plus it cost me less than $1.
1)Go to Radio Shack or similar store, or better yet, go to
Mouser Electronics - Electronic Component Distributor
(they have everything electrical you could ever want for dirt cheap, and they package everything nicely and label it for you).
2)Purchase:
-one 10,000 Ohm resister ($0.25 - $1.00)
-one 100 microfarad electrolytic capacitor ($2.00 - $3.00)
-solder and a solder gun to connect the wires
-after soldering throw some eletrical tape on there for some added strenght
-You can use old Christmas lights for wire, but it makes it really easy if you have some wire will an alligator clip at the end. We're talking a max of 1 volt and a very tiny amount of amps here, so pretty much any wire will do the job just fine.
3)Ok, now I'm assuming you already have you're A/F gauge wired in. Go ahead and cut the wire in the engine bay running from the O2 sensor to the gauge. I cut mine near the MAF, but you can cut it anywhere, just so long as you have a place to ground it to near by.
4)Now wire the resister in series with the gauge and O2 sensor, and wire the capacitor in parallel – following the diagram provided here: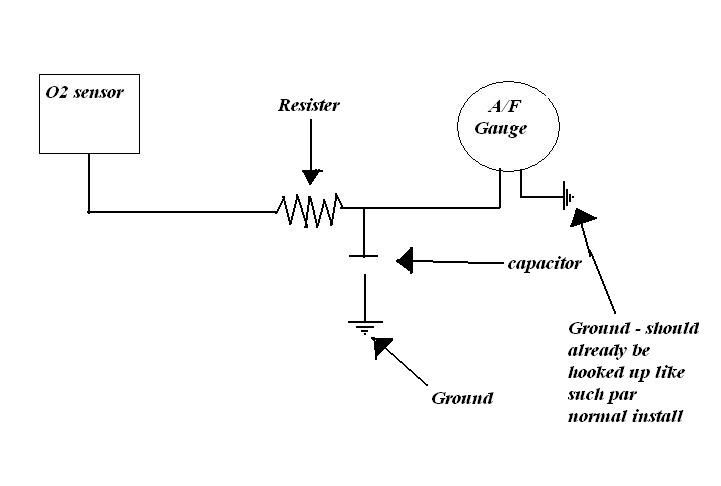 5)Once it's wired up, fire up the car, give it about 3 seconds to get the juices flowing. It should now be hovering/floating around the NORMAL range. When you got WOT, it will run up into the rich, and take your foot off the gas and it goes lean (at least on a 5 speed), and hanging out in NORMAL during idle.
6)DONE! The gauge is still useless for tuning, but now it won't be knocking around and going buck-friggin-wild all the time.
TIPS/TROUBLE SHOOTING:
-You can play around with bigger/smaller resisters, or adding 2(or more) in series to get the gauge to behave exactly how you want it to.
-The electrolytic capacitor is just that ELECTROLYTIC. So get your poles right when you hook it up. Since these capacitors are rated for 300+ volts you won't destroy it if you hook it up backwards, but it WILL NOT WORK if it's backwards.