Well here it is after a long 3 years of building it. Enjoy!
Engine
ACT 2100lb Clutch
ACT Xact Flywheel
Ebay 65% Reduced Short Shifter
Custom Intake
GM 3" Maf w/EVO8 Translator
Aeromotive 1:1 FPR
DC Sport Exhaust Manifold
E-Bay O2 Housing
Ebay SS Clutch Line
EVO8 560cc Injectors
EVO8 Ecu
EVO8 Intercooler Piping
EVO8 Modified Downpipe
EVO8 Turbo
EVO9 Blow-off Valve
Full 3" Custom Magnaflow turbo-back exhaust
Magnacor KV85 Wires
RRE Oil Catch Can
SS Oil feed and return (-4AN Feed / -10AN Return)
Walbro 255 Fuel Pump
Transmission
Eclipse 5SPD Manual Transmission
Quaife LSD
Suspension
Adjustable Swaybar Links
DC Sport Front Strut Bar
Energy Suspension Bushings
RSDMS Swaybars
Tein Coilover SS-P w/EDFC
Brakes
Dual Piston Front Calipers
EBC Red Stuff Brake Pads
R-1 Concept SS Brake Lines
Rear Drum-to-Disk Conversion
Exterior
Custom Electric Blue/Pearl Paint Job
10K Hella HIDs (Low Beams)
10K Hella HIDs (Fogs)
EGR Rear Visor
JDM 3rd Generation Tail Lights
JDM 6pc Fender Flares
JDM Clear Side Markers Recessed
JDM New Style Fog Lights
JDM New Style Front Bumper
JDM New Style Rear Bumper Extentions
JDM New Style Side Skirts
JDM Power Folding Mirrors
JDM Projector Modified Head Lights
JDM Rear Bumper
WeatherTech Rain Guards
Audio, Video, and Other Electronics
7" Xenarc LCD Molded
CarPC
AEM EUGO Wideband
Greddy 52mm Boost Guage
Greddy 52mm Oil Presure Guage
Greddy Full-Auto Turbo Timer
Wheels/Tires/Brakes
EVO9 MR BBS Wheels
EVO8 Brembos
Slotted rotors
Hawk Breakpads
Falken Azenis Tires 225/45/17
Interior
AC Autotechnic Guages
Cutom Molded Guage Pod
MOMO E-Brake Handle/ Leather Boot
MOMO Pedals
MOMO Shift Knob / Leather Shift Boot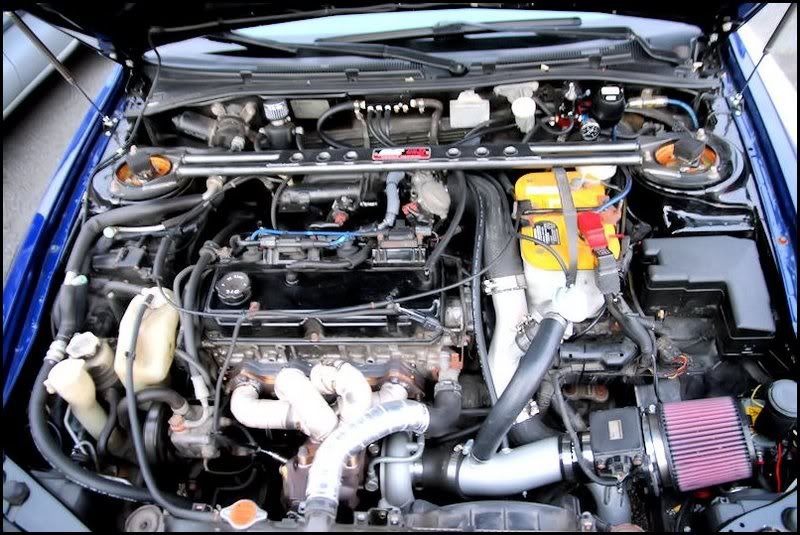 For pictures of the turbo install click the My Turbo Build in my sig.