Discussion Starter
•
#1
•
McCormick Place
2301 S Lake Shore Dr,
Chicago, IL 60616
​
Still one of the best Auto Shows you can attend.... In a City that is just as spectacular!
February 8th-10th - 2013 Chicago Auto Show Meet
Tamera and I are leaving here by train on Friday morning around 8 AM EST and getting into Chicago around 12 PM Chicago time, Friday night dinner & or Drinks for those who are die hards and want to meet up early..
I'm not filling the weekend with a huge ass schedule, but a nice fun weekend to see some new cars, hang out with good friends, have a drink or 2 and come back to a city that I love so dear!
Hotel -
We will be staying downtown again this year at the
Chicago Hyatt Regency
I booked off of Hotels.com for those of you who might be interested in hanging out for some after party fun. They have a deal running right now for winter for $111.00 per night, which is the cheapest price I found on any hotel in Chicago. So if you are thinking of staying, that would be a good deal... again on
Hotels.com
Friday Night / Saturday -
* Friday / Friday Night events are as follow or fly by night; as we will be arriving into town again around noon time and will be heading to the hotel to settle in and unpack. Later evening we will be heading over to
DMK Burger Bar
(2954 North Sheffield Avenue) for dinner/burgers and drinks. If you plan on coming in early to hang out, get a hold of me and we will put for the plans.
*
Heading to the Show Saturday at 1:00 PM
after breakfast (
Ada's Famous Deli
). If you are planning on meeting up with us for breakfast we will be meeting at our Hotel around
10:00
AM to then head out. There is a
parking garage
off of
205 E. Randolph St
(Exelon Pavilion/Harris Theater), which is not far from the hotel and is a perfect place to park if parking at the McCormick Place ($20.00 parking if I remember correct) isn't an option for you. After breakfast we will be taking "the L" (unless you drive to the McCormick Place) to the show.
Probably going to spend a few hours at the show and then head out to dinner at the Rock Bottom Brewery...
Rock Bottom Brewery


1 West Grand Ave.
Chicago, IL 60654
Note
- I will be calling and making a reservation for our group once I complete a head count at the show. If you are driving separately then you might want to take down the address above.
As of Right Now
, Times for Dinner is 6:30/7:00 PM, and the Manager has us set up in a section of the Brew/Bar area for 15-20 people. I will be calling R/B again at the show around 2:30/3 PM to finalize our time and head count, so if you plan on going to dinner don't leave before the plan/head count is laid out; you have been warned! If you have any questions, PM me and or ask for my number, I will be checking the board everyday until we leave for the show Saturday morning, so if you need anything PM me.
I guess our Fav bartender from last year will have to miss us.
:boink:
Sunday (for those of you who are close) we will probably meet up at a local breakfast house to have our famous "Fair well Breakfast"...
Thread....as always... will be updated as the event draws closer, but this is a pretty fair outline of what the weekend will hold. Everyone is welcome to come and hang out, but no one is expected. Please post up if you feel this is something you would like to do and I will add you to the list.
Attending Auto Show
1. Iceman99turbo & Momma Bear : - Hotel Booked
2. Loco : - Hotel Booked
3. Special_K & blkshdw +1 :
4. lucien +1 :
5. thrasherht :
6. drunkoffjuic & Stephine88
7. 3gEclipse86 : - Hotel Booked
8. mk3rider +1 : - Hotel Booked
9. 01eclipseguy : -
10. Chaos22 +1 : -
11. OkeDoke23 +1 : -
12. StreetLegal : -
13. Blue0588 : -
14. Alsouqi : -
15. Eclipse117 :
16. r2swift +1 :
17. sararose +1 :
18. Bitter +1 : Dinner/Sat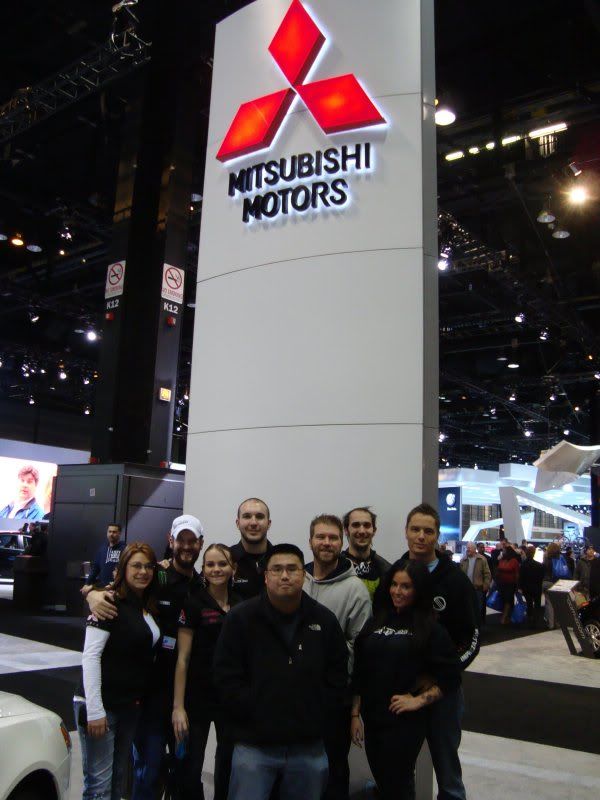 **
This will be a car related club event, so club attire is encouraged, but not required for the event.
I will have my patch shirt on Sat.