Discussion Starter
•
#1
•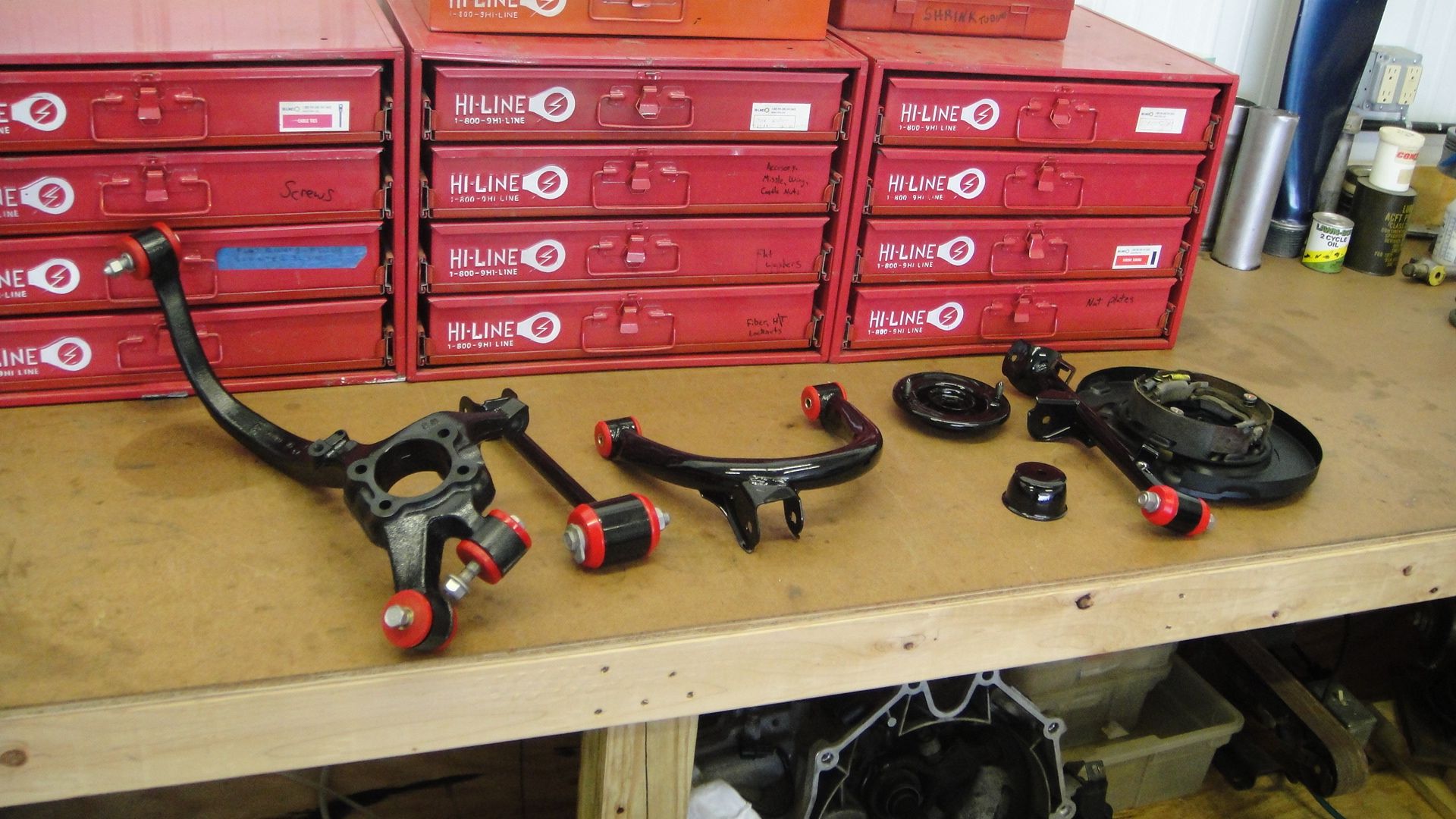 Vehicle: 2003 Eclipse GTS
I decided to install all urethane bushings in the rear of my Eclipse. I knew it would not be an easy task. Here are some items of interest that I did not find on the forums. I would think this thread pertinent to anyone planning this task. This is not a how to but more of an informational thread. There are some very nice "HOW TO" threads in the garage. All pics/movies below are thumbnails and may be enlarged.
I read on the forums that the rear suspension on a 2g Eclipse and a 3g Eclipse were very similar. I was told that the 2g Eclipse Prothane rear control arm bushing kit would work perfectly and would actually include more bushings.
I'll explain, but I actually had to buy two kits to replace all the bushings with the proper parts.
I had both the Prothane 3g rear control arm bushing set 13-302 and the Prothane 2g rear control arm bushing set 13-301 in my possession during this process.
[URL=http://s198.photobucket.com/albums/aa312/buddhalawton/Eclipse%20Rear%20Suspension%20Mods/?action=view&current=DSC01044.jpg]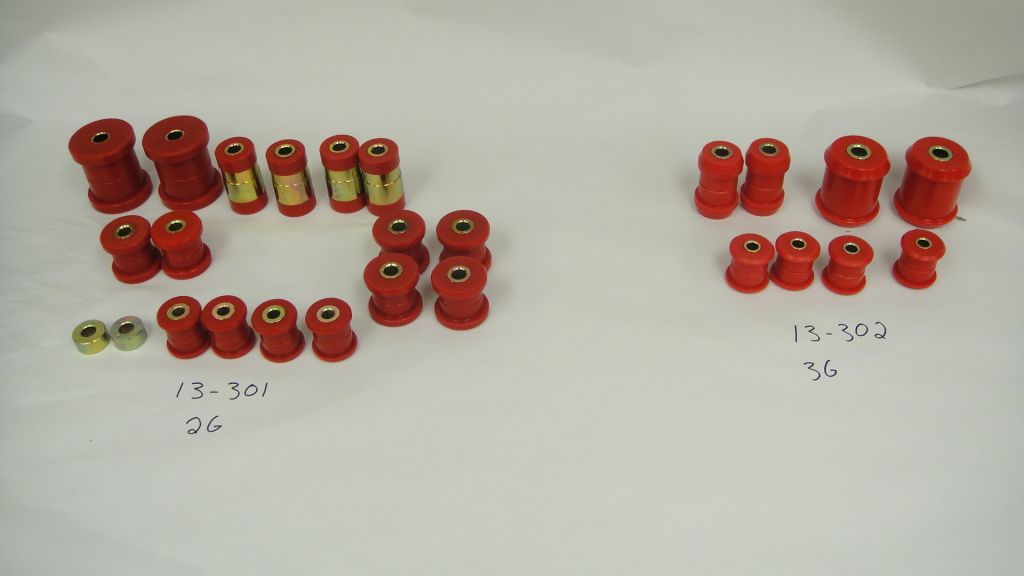 [/URL]
Lateral Link / Toe Arm / Tie Arm:
Everyone I spoke to or chatted with called it something different. I'll call it a "toe arm" for sake of this post. This is where my problems began. There are two ends to this arm, an inner and outer:
The inner
end attaches to the car via a through bolt and nut. After pressing out the old bushing my first problem was discovered. I was going to use the inner toe arm bushings from the 2g Prothane kit because they were not included in the 3g kit. They were obviously much smaller than the original.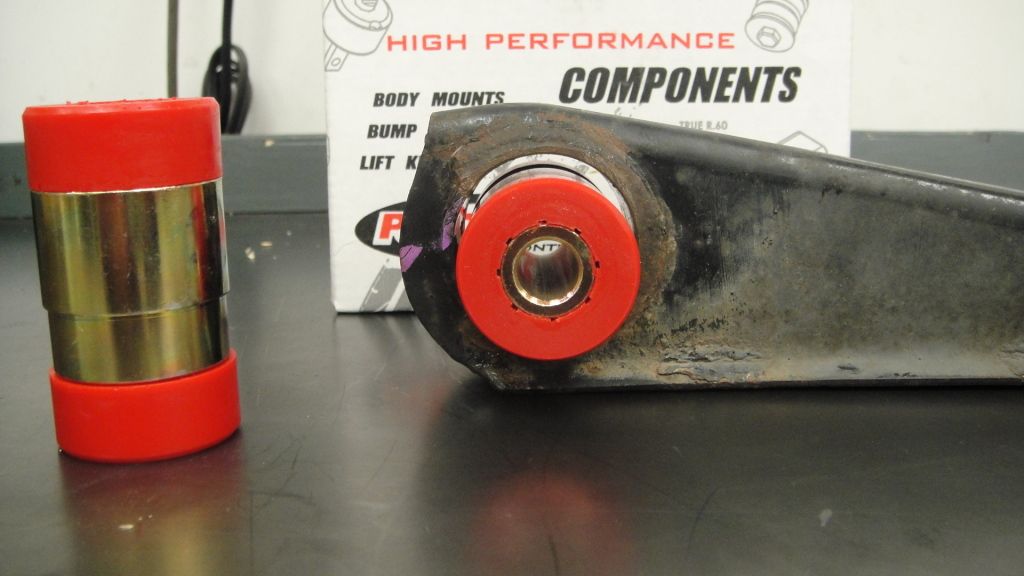 I thought this a minor inconvenience at first as I could easily make a bushing that would fit the arms larger outer diameter. That's when I started digging into the differences between 2g Eclipse and 3g Eclipse toe arms. The 2g Eclipse and 3g Eclipse FOUR CYL cars use the same toe arms as each other, NOT the SIX CYL. The 6 cyl 3g Eclipse (gt or gts) use toe arms which are not only different in part number, but different in the way they work as well.
The inner toe arm bushing on a 2g Eclipse and 3g Eclipse 4 cyl is a "simple bushing." Basically a very hard piece of rubber with a steel sleeve through the center. The 3g Eclipse 6 cyl uses an actual swiveling joint. It's similar to a ball joint in the way it can move. It has a much greater range of movement than a simple bushing. There is also no flex in this joint like you would find with a rubber bushing. It's very rigid, hence no need for an after market bushing.
2g and 3g Eclipse
4 cylinder
simple bushing:
3g Eclipse 6 cylinder pivoting bushing:
See the pivoting motion:
4 Cyl vs 6 Cyl toe Arms:
If I modify the 2g bushings to fit my toe arms, it will greatly hinder the arms ability to work properly. So at this point I know I'm stuck with some bushings from the 2g Prothane kit, I can't use.
The outer
end of the toe arm has a ball joint that is pressed in and secured with a clip. This ball joint attaches to the knuckle with a locking nut.
Ball Joint Removed from Toe Arm: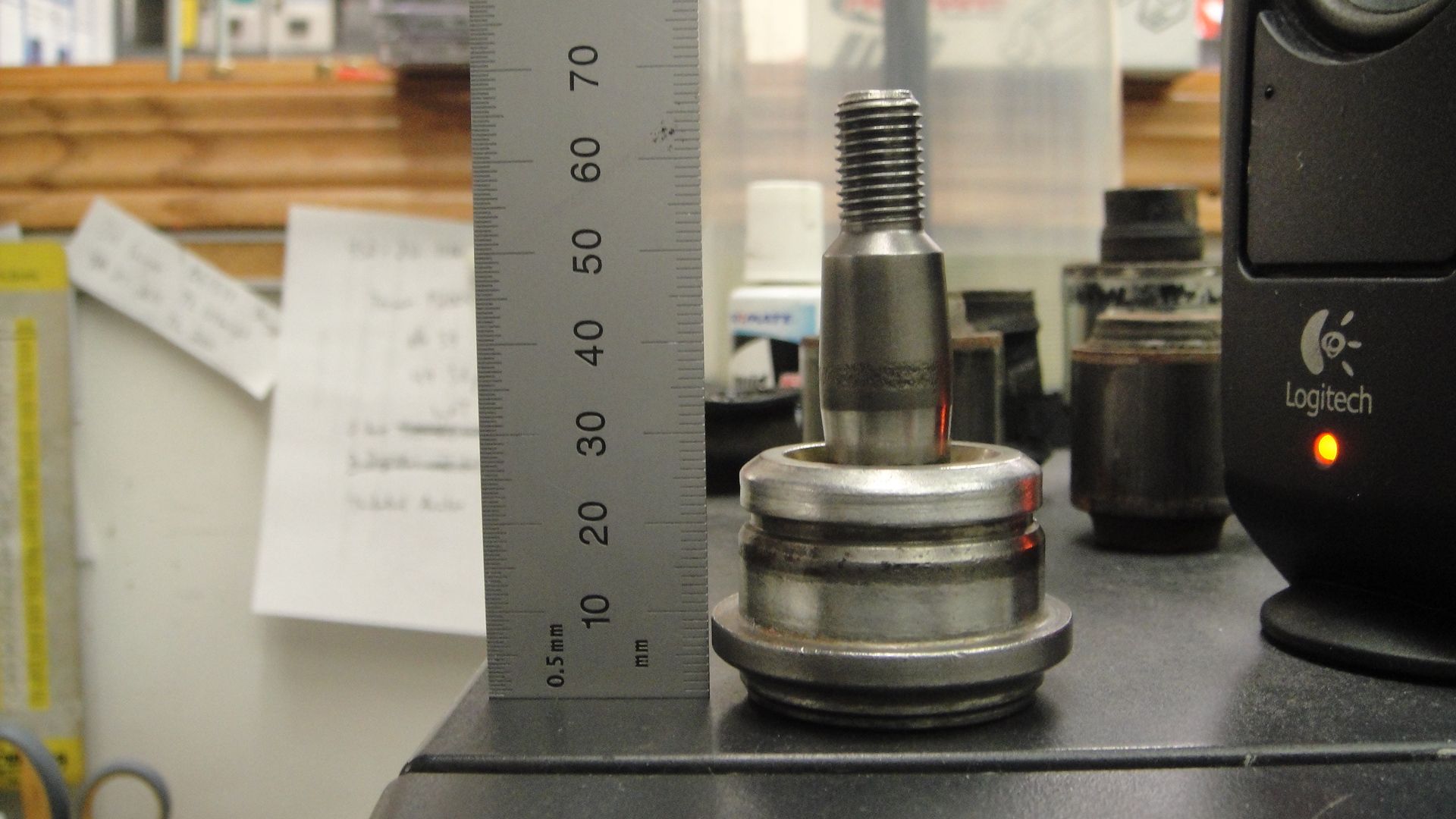 The entire front end of the car has Moog suspension components (ball joints, inner and outer tie rod ends, sway bar links) already so I wanted to replace the factory Mitsubishi rear toe arm ball joint with a Moog part. I could not find a Moog ball joint to fit this application. I looked and looked for suitable replacements. I went to my local parts store and looked at ball joints for 1g, 2g, and 3g Eclipses. Front, rear, top, bottom, FWD, AWD……it didn't matter. I could not find an exact match. I'm not saying it does not exist, but I couldn't find it.
So if I want to replace the outer toe arm ball joint and the inner swiveling joint mentioned above, I'll have to buy the entire arm and choose between an aftermarket and a factory Mitsubishi arm, right? Wrong.
It's been mentioned on the forums that people have replaced their factory toe arms with some made my Dorman. This is fine if you have a 3g 4 cyl, as that is what they are designed for. The Dorman toe arms I found should not be used on a 6 cyl 3g Eclipse. When searching Dorman's website, they don't even list a toe arm (they call it a lateral link) for a 6 cyl. Why? No swiveling inner joint. They would probably "work" on a 6 cyl but I sure wouldn't install them.
I ended up using brand new toe arms from my local Mitsubishi dealer for about $65 a piece. If you own a 3g GT or GTS I see this as the only way to do the job correctly as the engineers didn't put a swivel in for no reason. Now I have a new ball joint and inner swivel.
Upper Control Arm:
Both the 3g and 2g Prothane rear control arm kits come with upper control arm bushings, but there is a difference between the kits. The steel sleeves that come with the 2g kit have a much thicker wall thus the inner diameter of the bushing is larger to accommodate.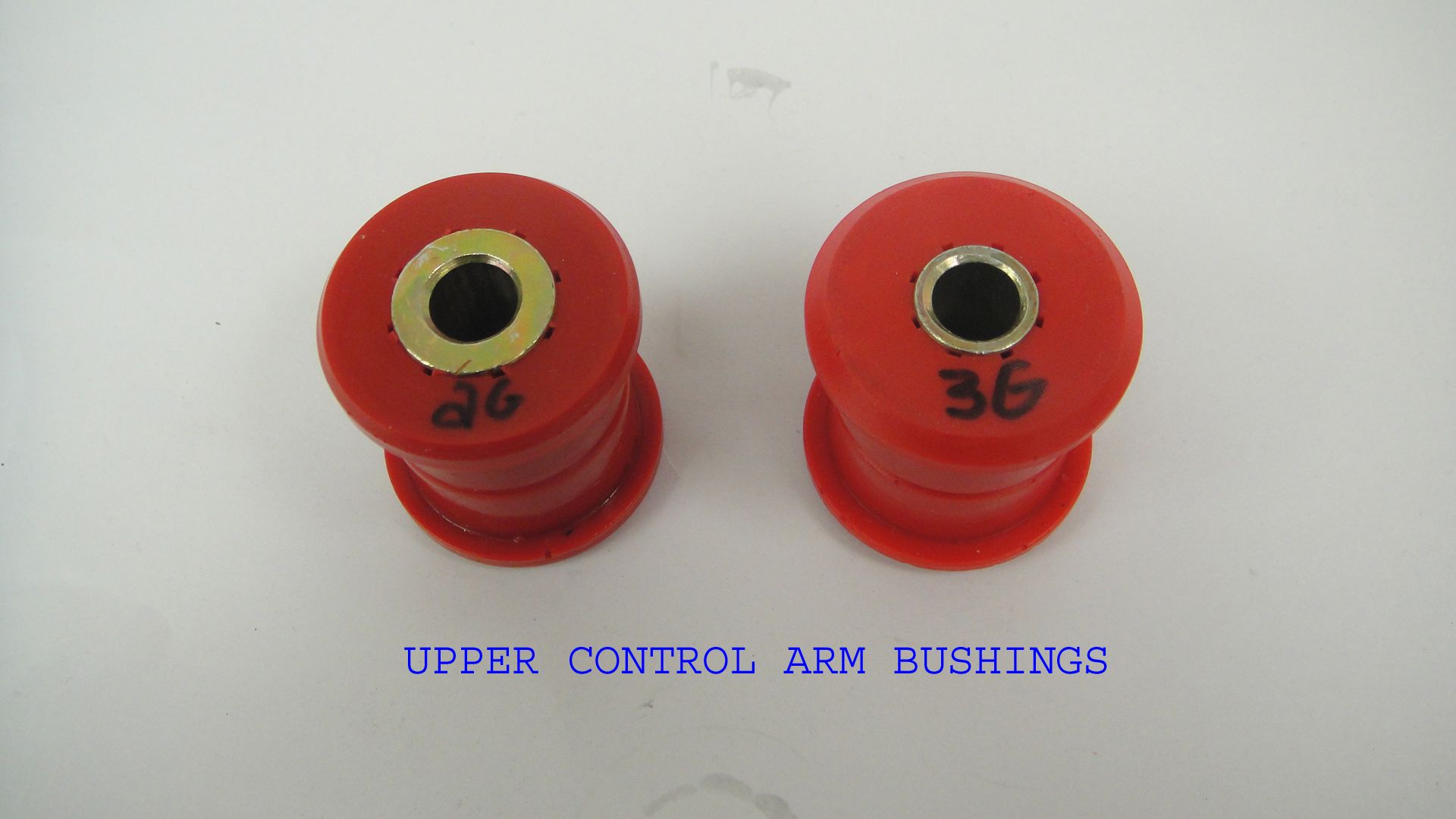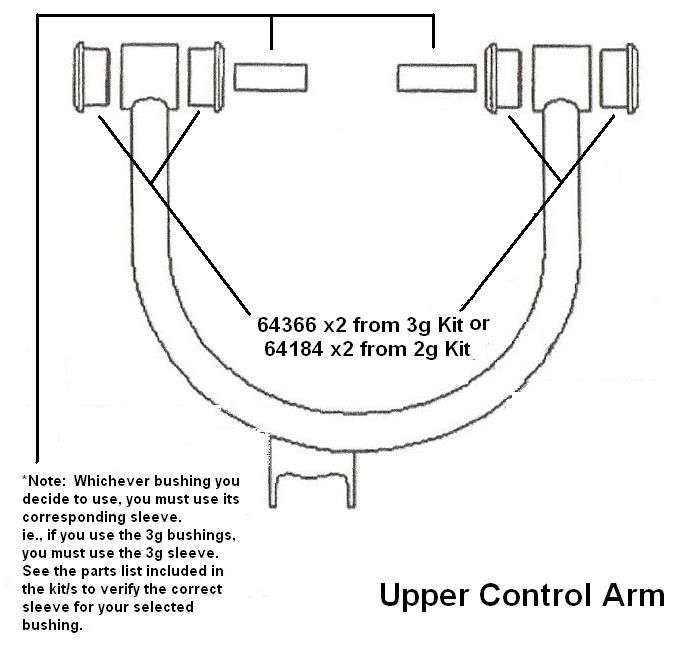 In reality you could use either style in place of each other. There are probably some hardness differences between the 2 kits, but as far as installing is concerned they would be identical. Just be sure to use the correct sleeves with the correct bushings. I ended up using the UCA bushings that came with 3g Prothane kit.
Lower Control Arm:
The lower control arm is pretty straight forward. Using the bushing supplied in the 3g Prothane kit, they install per the directions. The 2g Prothane kit has these bushings supplied but like the toe arm, they were the incorrect size.
Trailing Arm:
Both the 2g and 3g Prothane kits come with the trailing arm bushings. The bushings supplied with the 3g kit are one piece and the 2g bushings are 2 piece. Again, probably some hardness differences, but both could be installed no problem. I used the bushings from the 3g Prothane kit.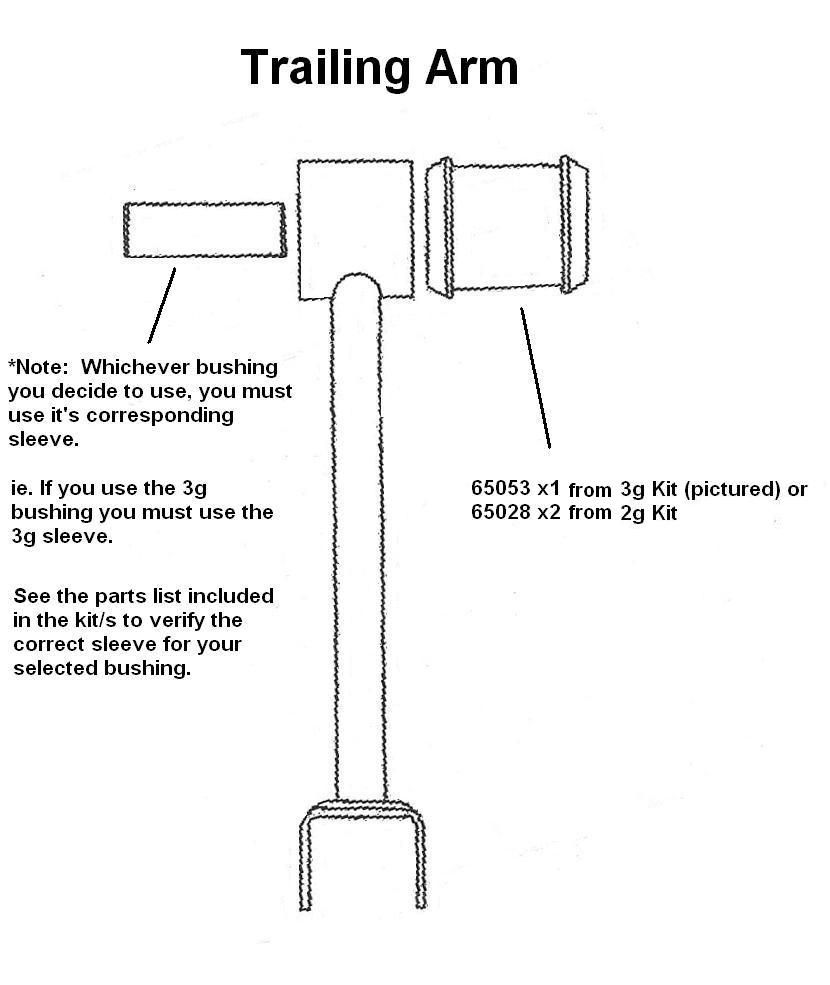 Knuckle:
The knuckle bushings are only supplied in the 2g Prothane kit. The two lower positions on the knuckle take a different part number bushing than the upper position.
It's hard to spot if you're not looking but they do have a different part number and slightly different shape.
(I'm told that the lower knuckle bushings will also work for the upper position, but it's a tight fit. The lower bushings are available on Ebay and have been tried by others in the top position)
There were some bad burs on the knuckle that I dressed to fit the new bushings properly.
Before: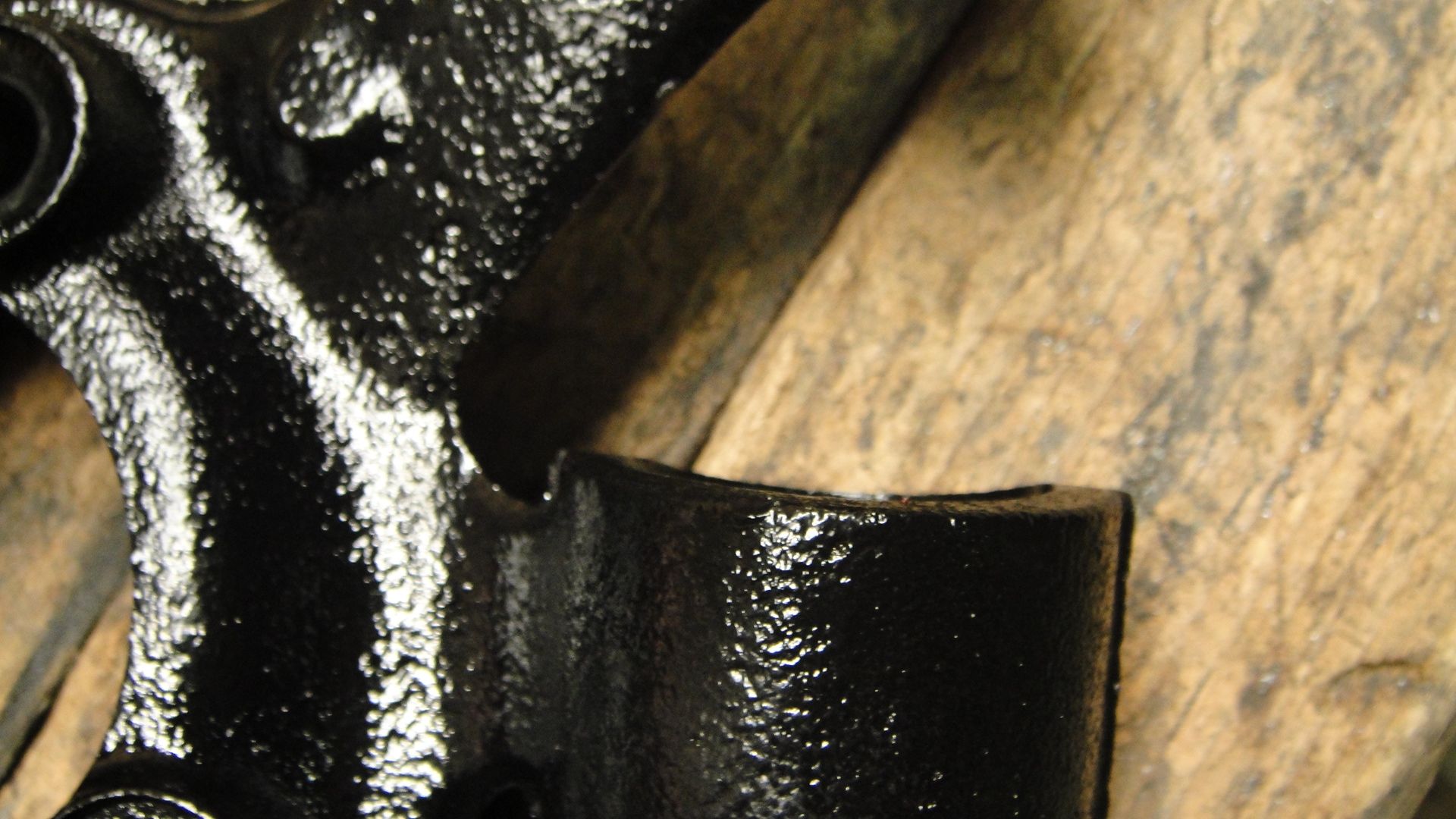 After: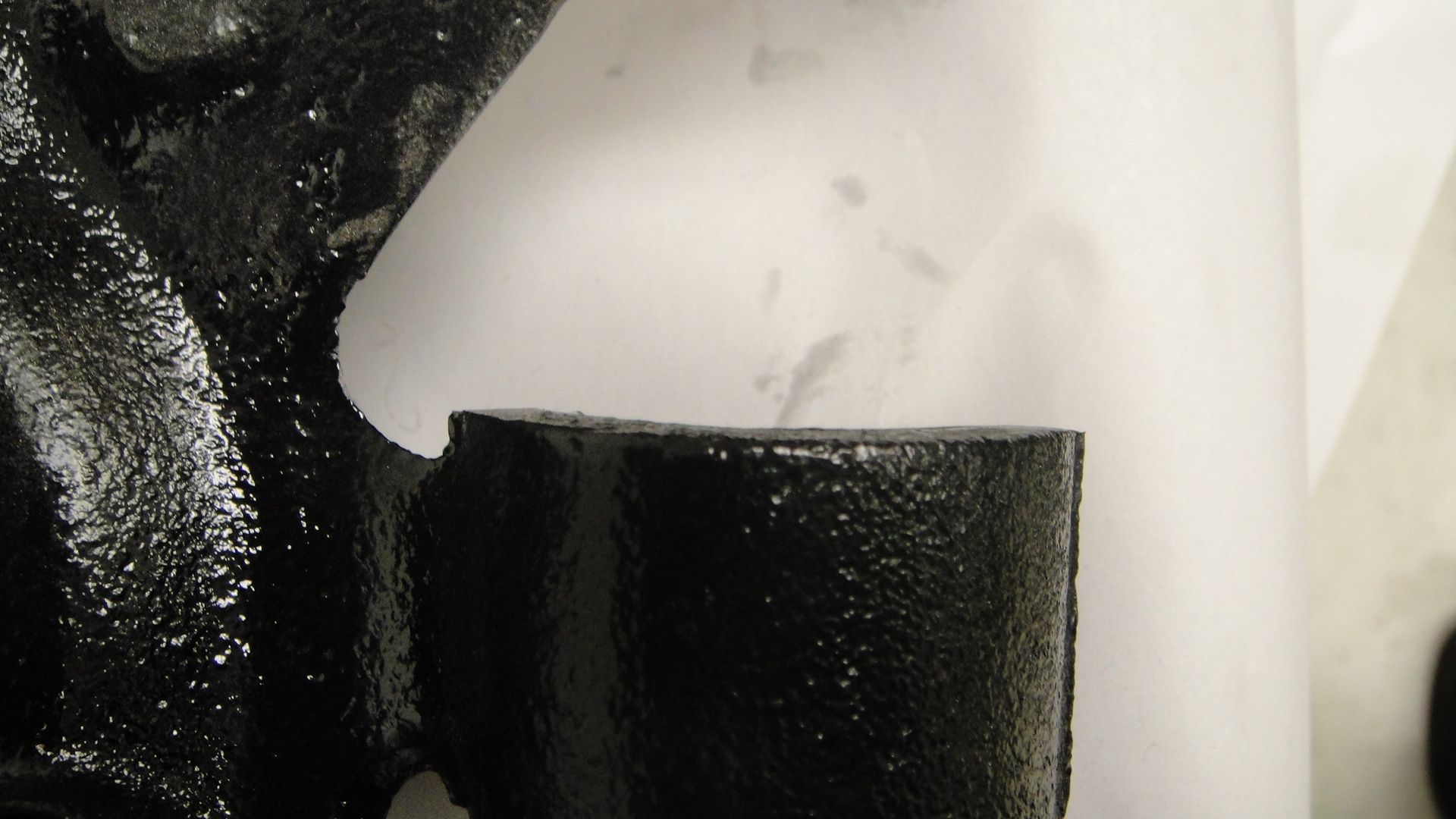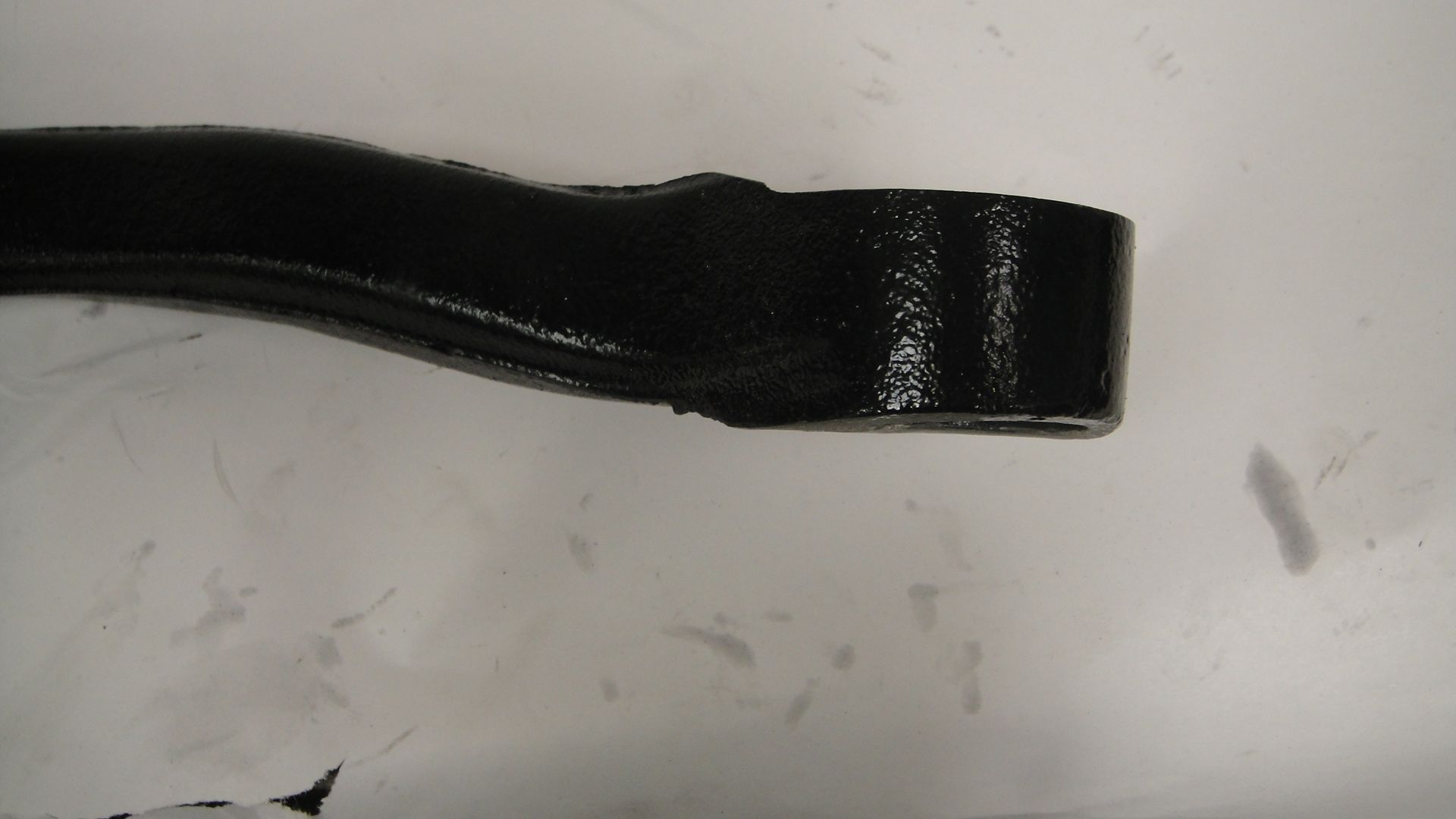 In conclusion, you'll have to buy both the 3g kit and the 2g kit to complete the job unless you can source bushings individually.
Hope this helps. If you would like to see a ton more pictures go here:
Eclipse Rear Suspension Mods pictures by buddhalawton - Photobucket