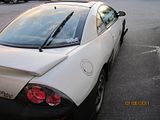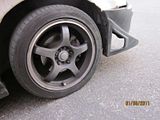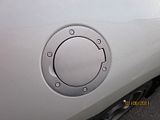 (Pictures taken January 2011)
The specs:
(Updated 10/15/11)
Engine\Transmission:
VRX 3.5L V6
Rebuilt Transmission
Suspension:
Megan Racing Coilovers
Ingalls -1+3 Rear Camber Kit
Ingalls -1+2 Front Camber Kit
Moog Front/Rear Endlinks
Moog Inner/Outer Tie Rods
Prothane 3x Motor/Transmission Mounts
Deyeme Firm Front Motor mount
Prothane Front/Rear Swaybar bushings
Tires/Brakes:
Chrono frozen/larger sized/slotted front rotors
Generic Ceramic brake pads (Front)
RedStuff Ceramic brake pads (Rear)
Gunmetal grey 5 spoke Tuner rims with a chrome lip
Gorilla Black Small diameter Tuner Lug nuts (spline)
Continental DWS Extreme Contact 225-45-17
Chrome Skull Air cap
Coolant/Fluids/Intake:
Diamante v6 manifold
Diamante EGR Pipe
Diamante 65mm Throttle body (with cruise control
AEM V2 air intake
CMF Racing 1.75 Row Radiator
B&M Fin and tube style Transmission cooler
B&M Transmission Remote(External Screw-on) Filter
Stainless Steel Vacuum Lines
Stainless Steel Transmission Lines
Stainless Steel Engine Fluid Lines
All full synthetic Royal Purple racing fluids
Coolant Overflow tank moved (hidden)
Lighting:
Dual Halo (Black housing)
Euro-Style (Black Housing) Dual Halo H1 Headlights
Euro-Style (Carbon fiber) TYC Tail lights
Euro-Style (Diamond clear) Rear turn signals + Tint
Euro-Style (Diamond clear) Trunk Brake light
Euro-Style (Diamond clear) front turn signals + Tint
JDM-Style (clear) Halo Fog lights
6k Ultra bright (Ultra White) LED windshield wiper sprayers
6k Ultra bright (Ultra White) Xenon halogen reverse lamps (25% brighter)
6k Ultra bright (Ultra White) LED License plate Lights
6k Ultra bright (Ultra White) LED Interior Lights
Ultra bright (Red and Amber) LEDs for tails, rear turn signals, and center stop light
Ultra bright (Chrome Amber) Lamp for front turn signals(they look so freaking slick)
Painted (Carbon fiber) G2 Side mirrors with LED side turn light
Custom (Red) LED turn arrows on the side mirrors
Custom (Chrome and Red) LED Skull License plate border with a blackout cover
Electrical:
Optima Red top battery
Hardwired radar detector
Custom PSP docking bay on the clock pod
Hardwired cellphone charger
Hardwired aux audio cable
Magnicore sparkplug wires
NGK Iridium sparkplugs
Red chrome wire covers (covered all the electrical)
Heavy Duty battery ends
Body/Interior/Dressup:
Duraflex Blitz kit (front/rear/sides)
Custom grill inserts
Carbon Fiber armrest
Carbon Fiber Mitsubishi Engine oil Cap
Redline Pro Hood lifts
Alum. Gas Door
Locking gas cap
Rain X windshield wipers (off sized extra large)
Chrome Pandora lettering\decals
Lanechanger angled rear view mirror attachment
Custom stage 3 Car Cover (fitted specifically for my car)
Upgraded Trunk Spring
Strongarm Trunk Dampers
Redline Hood Dampers
Partially Converted Interior to all Black (Its on the bottom of my to-do list)
Custom Carseat Brackets (my son has the safest seat in the car)
Background info:
Hey everyone. Due to the crappy economy and poor timing with ordering almost $2,000 in cosmetic parts just as my v6 automatic transmission taking a crap on me along with my job.... I had to retire my baby and left the group over 2 years ago. To make things short... I got screwed over and over while having a run of bad luck, I have finally started getting out of this whole i fell into. Im restoring my car as we speak, in the process of getting married, I have a beautiful daughter, and I have a son on the way. I have spent just about another $3,000 on parts and just about have everything i need to make her purr again.
I first started with a 2002 Gt Premium Pearl White Sport-tronic Eclipse with 70,000 miles on it for $20,000 back in 2004.
Im working on installing: securing the rest of the bodykit, getting duraflex fenders, reshaping some vents and add grilles, shave the body kit fully (no lines....all solid baby!), removing all dents and body damage, need to buy and install a new trunk carpet