Discussion Starter
·
#1
·
Im up in the air with this one guys:dunno:. I have the chance to sell my car and buy a 1997 eclipse AWD turbo. I have always been a big fan of the 2g but you can never find a nice one that hasnt been ragged. the motor has been built from ground up, here are some mods that have been done to the car but its not all.
17in wheels
new tires
ported and polished head
carbon composite seals
new water pump
new timming belt
clearion cd player
all new infinity speakers
high rise spoilier
motor has 2k miles on it
body has 140k
lowerd to the ground
stage 3 clutch
It doesnt look as good as my 3g but i think i could turn it around with a paint job and new wheels. I could Really use your advice.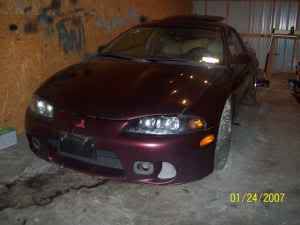 vs.